air ingenium

DRONE PILOT COURSE QUALITY TRAINING INDUSTRIAL SERVICES
Ingenium Research Group, as a result of the research on industrial maintenance carried out throughout the years, decided to continue those tasks using Drones.  Recently the group has been recognized as an Authorized Operator by the Spanish Aviation Safety and Security Agency (AESA) with registration number 2016072432, 27th of December, 2017 (page 170). The declared activities are:
Research activities

Photography development

Filming and aerial surveys (topographic surveys, photogrammetry)

Research and instrumental recognition: calibration of equipment, meteorological, maritime, geological, oil or archaeological exploration, link and transmissions, transmitters, receiver, radio or television repeater

Observation and aerial surveillance including filming and monitoring activities of forest fires

Emergency, search and rescue operations
Pilots with official licenses
At Air Ingenium we have a team of professionals with official pilot titles. Thanks to our experience, traininig and ability, we can carry out any aerial operation.We have the legal permissions and the experience in aerial operations.
Currently, Ingenium Group can develop advanced pilot course in Ciudad Real. This course is focused in real practises with industrial drones, training our students in real cases. With this quality formation, you will be able to develop any aerial operation in any situacion.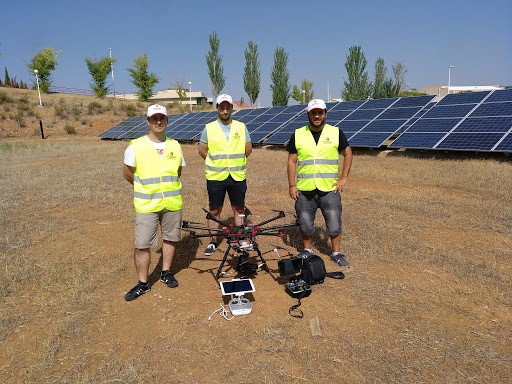 Figure 1: Team of pilots of Air Ingenium
DJI Spreading Wings S1000
The drone S1000 is an improved model of aircraft, much more efficient and stable due to its 8 rotors.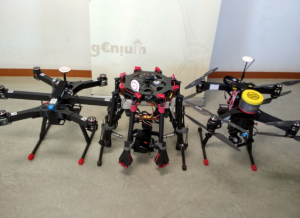 Figure 2: DJI S1000.
 This model is made with carbon fiber, to reduce its weight, facilitating stability and control.  
This unmanned aircraft is one of the most competitive models due to the following characteristics:
Load capacity: The S1000 is capable of flying with a total of 8,2 kg, so it is an efficient and viable monitoring system.
Autonomy: With different 22000 mAh batteries it is possible to carry out several flights of 15 min each, depending on the weather conditions.  
Stability: With 8 rotors, the stability is greater in comparison with other drone models.
Broadcast HD video: Thanks to the Lightbridge system, it is possible to broadcast HD video at greater distances without interference or loss of quality.
With this reliable equipment, a monitoring system is created to obtain reliable thermal data in real time, saving enormous operational inspection costs. 
Workswell WIRIS camera
This system is composed of a thermal camera, a digital camera and a control unit.  Thanks to this combination, we can obtain completely radiometric and calibrated data (images and video) that can be stored.  The Workswell WIRIS camera is a compact, highly reliable device that allows new applications in the monitoring system. The main features are:
Digital zoom: this camera is able to analyze objects at great distances, it is necessary to use the zoom. For the digital camera the zoom allows to increase up to 16x; in the case of the thermal camera the zoom allows to increase up to 14x (with resolution 640×512).
3D modeling: All the information obtained is radiometric and is linked to the GPS coordinates. Thanks to specialized software, it is possible to create 3D models that allow analyzing the situation more reliably.
Software: This tool allows to work with data and also to add extra temperature functions, such as temperature in a point, maximum and minimum in an area, thermal profile, among others.
Calibration: Air Ingenium ensures obtaining reliable measurements through calibration certificates. The accuracy of each measurement is checked using black body radiation sources over the entire temperature range of the camera.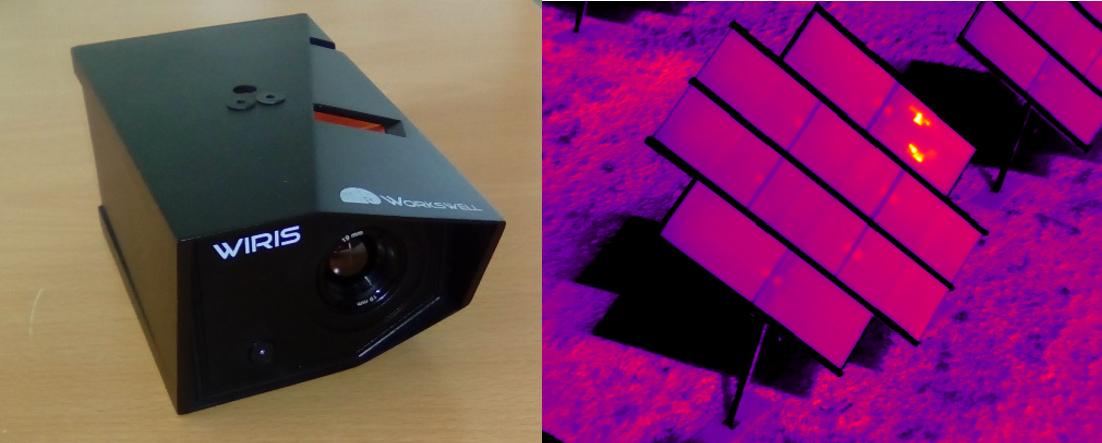 Figure 9: Thermogram on solar panel obtained with WIRIS camera
Flir VUE 640
This thermal camera is specific for professional drones; whose base is infrared thermography so only the surface state is analyzed. This professional equipment is able to provide high precision non-radiometric thermograms in a wide range of color palettes.  Due to its lightness, it doesn't affect the flight time or the system's stability. It is easy to integrate into almost any platform and it has connections for video output. Thanks to this tool, all types of superficial incidents and anomalies in any module can be observed.
The operation of this camera consists in assigning to each level of radiation it receives a specific color or shade of gray. These levels are calculated for each pixel of resolution that the camera has, creating a thermal image. This camera is programmed to display colors automatically depending on the range of temperatures it captures.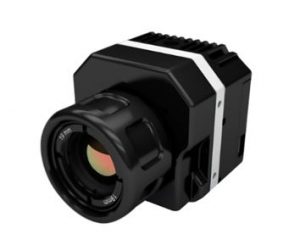 Figure 10: Thermal camera used in the project.
This camera is used to check the data obtained with the sensors and analyze the different temperatures of the observed bodies. 
If this camera is complemented with a normal video camera, then thermal images can be contrasted with real images and the sensor data in order to check their effectiveness.
CWS 220E
It is a wireless sensor that sends its signal to the land base called CWB100 through radio waves.  That base is connected to a datalogger that sends the signal to the computer for monitoring.  The information obtained is processed in the computer, getting the data of own temperature, target temperature, ambient temperature, signal strength, etc.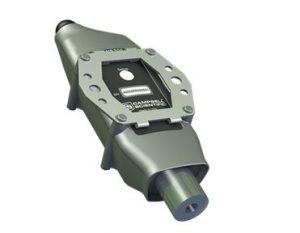 Figure 12: Wireless sensor Campbell CWS220E-ALK.
The temperature measured by the sensor is the average of the temperatures of its field of vision; it receives between 95 and 98% of the infrared radiation of the field of vision and between 2 and 5% from outside the field.
Since the average angle of measurement of the sensor is 22.5º, to obtain the measured surface, the following geometric calculations are made, considering that the measurement area depends only on the distance from the target to the sensor and the inclination of the latter.
This sensor has been chosen because of its high precision, speed of reaction to changes in temperature and wide range of temperatures at which it can operate. This sensor is used for experiments prior to assembly in the unmanned aerial vehicle, since its weight is too high and can affect its autonomy. 
The temperature differences that the sensor may capture in the same measurement area are due to the emissivity of the observed bodies.  The lower the emissivity of the bodies is, the lower the temperature it captures.
Dron pilot is one of the most challenging professions and its growth is increasing every year due to novel technical advances in drones and new application fields.. Ingenium Group offers this course valid for all national territory. Join the profession of the future!
Ingenium Research Group, as a result of the research on industrial maintenance carried out throughout the years, decided to continue those tasks using Drones
Join us and don´t hesitate to ask for information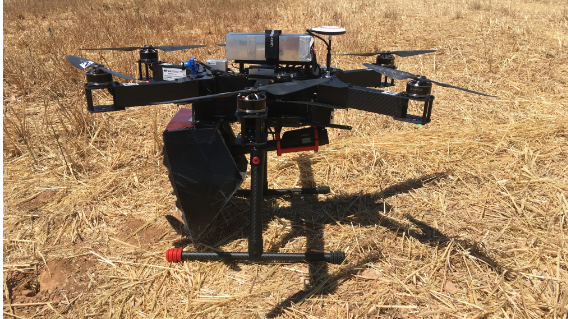 Ingenium Research Group proposes a novel approach analyzing the noise waves in wind turbine fault detection. A novel condition monitoring system formed by an acoustic acquisition system embedded in a drone and connected to a…