The 15th International Conference on Management Science and Engineering Management (ICMSEM), organized by International Society of Management Science and Engineering Management (ISMSEM) and co-organized by Ingenium Research Group, University of Castilla-La Mancha(UCLM) and Sichuan University, was held online from Aug. 2 to Aug. 3, 2021.
Opening Ceremony and Awards
Isaac Segovia Ramírez hosted the opening ceremony of the 15th ICMSEM on Aug. 2, 2021, at 09:00 am (Spanish time). On behalf of the co-organizers, the Vice-Chancellor at University of  Castilla-La Mancha Prof. Antonio Mas López, in representation of the Chancellor at University of Castilla-La Mancha, Prof. Jose Julian Garde López-Brea and the General Director of Universities, Research and Innovation, Castilla-La Mancha Government, Prof. Ricardo Cuevas Campos gave the warm welcomes to the university and most sincere wishes for a successful meeting.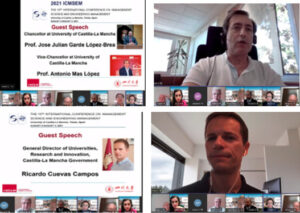 The general chair and the president of ISMSEM, Prof. Dr. Dr. Jiuping Xu at Sichuan University, presented the sincere appreciation to the co-organizers for their perfect work, the warm welcome to all conference participants.The Director of Ingenium Group, Prof. Fausto Pedro García Márquez at Spain, expressed the sincere thanks to all the participants for their contributions to the academic research, as well as to all the members who had worked hard to prepare for the conference.
The 2021 Advancement Prize for MSEM was also awarded during the opening ceremony. The prizes were rigorously selected from the recognized 126 full papers as valid entries from 682 submissions by 19 jury board consisting of Algeria, Australia, Azerbaijan, Canada, China, Egypt, France, India, Japan, Laos, Moldova, New Zealand, Pakistan, Serbia, Spain, Sweden, Turkey, the USA and the UK.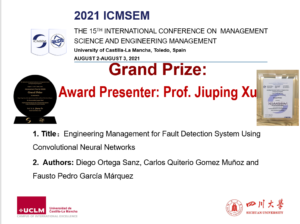 Eleven keynote speakers from Sudan, the UK, Moldova, the USA, China, Japan, Turkey, Azerbajan and Spain have given the plenary reports . These keynote speakers stated the frontiers of their research, which triggered a heated discussion among the participants.
  ●  Mohamed Hag Ali Hassan

"Role of Science and Engineering Innovations in Transforming Food Systems in Developing Countries"

●  Mistuo Gen

"Recent Advances in Hybrid Heuristic Algorithms for Multiobjective Flexible Job-shop Scheduling Problems"

●  Adolfo Crespo

"Digital and Intelligent Maintenance Management. Examples in Critical Infrastructure in Spain"

●  Zongmin Li

"Big Data-driven Precise Governance of Online Rumors"

●  Mayorkinos Papaelias

"The value of Inspection and Condition Monitoring for Effective Maintenance of Critical Industrial Assets"

●  Fausto Pedro García Márquez

"Renewable Energy and Artificial Intelligence Outlook"

●  Gheorghe Duca

"Design and SMART Objectives System in the  Management of Research Projects"

●  Asaf Hajiyev

"Kolmogorov Stories"

●  Benjamin Lev

"My Experience as EIC of OMEGA"

●  Fulya Altiparmak

"An Overview of Home Health Care Logistics Problems"

●  Rado Kotorov

"Keeping an Open Mind and Seeking New Horizons  in ML and AI"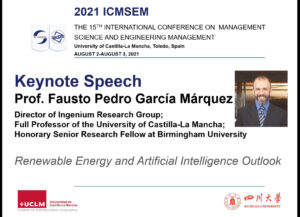 Forum
This conference also included forum focusing on "Development on Management Science in Engineering 2020" on Aug. 2.
At the forum, Prof. Ziqiang Zeng (China) presented a Scientific journal report announcement entitled «Development on Management Science in Engineering 2020–Perspectives from Scientific Journal Report».Then, experts in various fields offer their opinions and promote topics about their areas of interest for discussion. Finally, questions from the audience were discussed by all the editors.
Parallel Sessions
This conference included 4 parallel sessions, wherein scholars from Sichuan University and other international institutes contribute their 10-15 minutes presentations. All sessions were well attended with periods of intensive exchanges, an indication of the scientific interest in the various developments and trends of big data, enterprise innovation, supply chains, information technology and uncertainty in the management science and engineering management sector.
Conference Proceedings
The conference proceedings were published as a Springer Proceedings Book with ISBN. This proceedings volume includes the full papers of the communications presented at the conference.