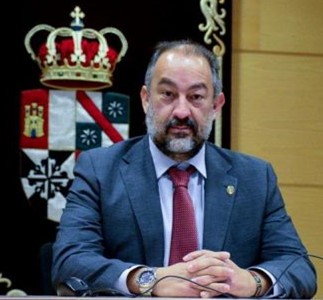 Prof. Jose Julian Garde López Brea, Chancellor at Castilla-La Mancha University, Spain
Dear Attendees,
Castilla-La Mancha University (UCLM), Spain, the institution that I represent, and myself are very grateful to the presence of all the participants to this important event of "The 16th International Conference on Industrial Engineering and Industrial Management» and the "XXVI Congreso de Ingeniería de Organización (cio2022)", to held in Toledo, Spain, from July 7th – 8th, 2022
UCLM the flagship academic institution in the autonomous community which gave its name, and which is a leader in the creation and transmission of science, technology, innovation, culture and solidarity.
UCLM came into operation in the year 1985, although it was officially created by law on the 30th of June 1982, as a result of the autonomy policy and collective desire shown by Castilla-La Mancha society, which was shared by the regional government. From its first days, this academic institution was an element for cohesion and had a clear aim in mind: to act as a fundamental cog for economic, social, cultural and technological development for the Autonomous Community, providing solutions for its present and future needs. In its thirty years of operation, the UCLM has provided young people with access to higher education and has dynamized life in the cities where its four campuses have been established: Ciudad Real, site of its chancellorship-, Albacete, Cuenca and Toledo. At present, teaching extends to the towns of Almaden (Ciudad Real) and Talavera de la Reina (Toledo).
We hope to cope with the requirements our real or potential users have and to satisfy the interests of the university community. The UCLM is a smart move for those who are shaping their future, for those who wish to gain more training throughout their life and for foreign students pursuing academic enrichment, vitality or language learning. It is also for companies who will find a wide variety of research, development and innovation opportunities in our research portfolio (R +D + I).
What uplifts the university is its people. For this reason, we value and appreciate your enthusiasm, whether you are in your pre-university year, a student, lecturer, researcher, administrative or services worker, a graduate or visitor. It does not matter if you have been awarded the Nobel Peace Prize or if you are in your first year. We invite you all to seek answers to fundamental and pressing questions which society is facing.
The Conference will be co-organized by our international research group Ingenium. Ingenium has a large number of research projects, together with an important paper production in continues growing, and numerous international awards over the last few years. They are now attracting international conferences to our University, which is a great opportunity to show UCLM to others together to our region.
UCLM is doing a great work to offer to the best of ourselves with the objective of a successful conference, and that each of you will finish an excellent remember of this event at our University. I encourage to any to continue visiting and collaborating with us. At present, the UCLM has thirty-three research institutions, two mixed centres and three associated research units in which its 245 active research groups work, that operate in the most wide-ranging spheres, from sciences to health, agriculture through to chemistry, economics, law, computer science or cynegetics. This scientific-technological programme shows the research capacity and lines of work there are at UCLM, which are fully available for the development of strategic partnerships with companies.
UCLM would like to finish this message showing our gratitude to our friends from Adingor, Spain. University must represent this clear example of collaboration in pro to host and organize important events as this international conference for everyone involved in Engineering and Management.
My best wishes
Jose Julian Garde López-Brea
Chancellor at Castilla-University, Spain