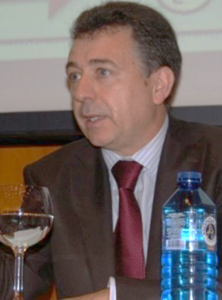 Prof. José Carlos Prado Prado, President of ADINGOR, Spain
Dear Participants,
I am very glad to present my appreciation for your participation in the "The 16th International Conference on Industrial Engineering and Industrial Management» and the "XXVI Congreso de Ingeniería de Organización (cio2022)", to held in Toledo, Spain, from July 7th – 8th, 2022, hosted by the University of Castilla-La Mancha, Spain.
This International Conference is well-known in the world, and it will be organized by Adingor together with Ingenium from UCLM, aims at fostering international research collaborations in Management Science and Industrial Engineering.
The conference is a forum to disseminate, to all branches of academy and industry, information on the most recent and relevant research, theories, and practices in Industrial Engineering and Operations Management. The conference motto is: "IoT and Data Science in Engineering Management". The mission is to promote links between researchers and practitioners from different branches, to enhance an interdisciplinary perspective of industrial engineering and management. It will be a conference of very high standards, built on the experience of previous editions of ICIEIM/CIO conferences. We are sure that the ICIEIM/CIO2022 Conference will be a unique opportunity for networking and for enjoying a high-quality scientific program.
The key issues of the Conference cover various areas such as Decision Support System, Computing Methodology, machine learning, Information Technology, Data Analysis and mining, Operational Management, Project Management, Green Supply Chain, Industry Strategy Management and so on.
The conference provides a good chance for all participants to discuss and to exchange their research ideas. Although the research ideas will be presented in technical sessions and round table discussions during the conference period, the parallel session will provide extra occasions for the participants to have an in-depth discussion in a relaxed environment.
I am very grateful for the help and support from the institutions as well as the hard work from many individuals who have contributed greatly to this conference. Please let me extend my gratitude to them. I hope all the participants will enjoy attending all technical sessions of the conference, meeting friends and colleagues online as well as joining its wonderful discussion.
José Carlos Prado Prado
President of Adingor, Spain